With thanks to JudaicaWebstore and the Israel Museum, ensignproject.com obtained a shipment of gold plated keyrings at an astounding low price, allowing us to offer them for fund raising for the Christadelphian initiated Hostel at Isaac's Beacons, Israel.
Except postage and paypal costs 100% goes to the work.
For every offering over $14 + postage (UK,USA,SA, Canada 2.35, NZ 1.65, Aus 60c)
3.5cmx3.5cm, gold plated keyring, 25g and bonus free e-book when launched, God willing
go to donate
or via paypal.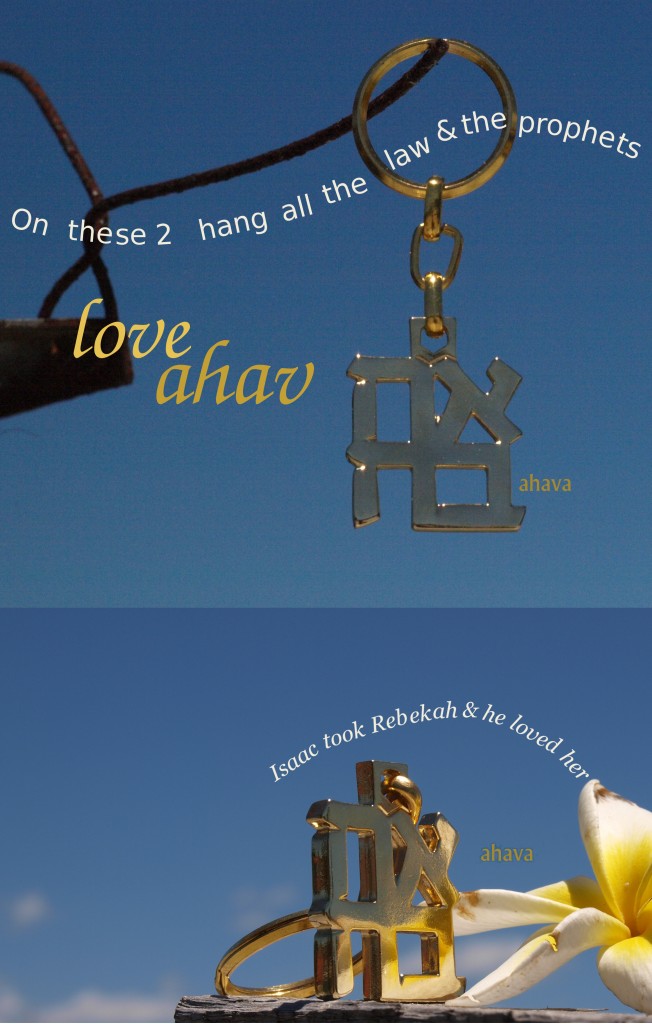 Ahav is love in Hebrew
Ahav and love sound similar. Love(d) is also ahava. Hebrew scholars place emphasis on the first occurrence of a word in the Hebrew Bible. The very first occurrence of the precise word for love as on the keyring is,
And Isaac brought her into his mother Sarah's tent, and took Rebekah, and she became his wife; and he loved (ahava) her. And Isaac was comforted for his mother. (Gen 24:67)
We can then understand what is asked of us in the very next occurrence,
And now, Israel, what does the LORD thy God require of you, but to fear the LORD thy God, to walk in all His ways, and to love (ahava) Him, and to serve the LORD thy God with all thy heart and with all thy soul; (Deu. 10:12)
The first occurrence of the word ahava was associated with Isaac, linking it to the work at Isaac's beacons, Masuo'ot Yitzhak, on the path of the Patriarchs where the locals identify with Abraham's journey to the offering of Isaac.
This design began as an immensely popular card design by the American Robert Indiana capturing the essential of Christianity. It was made into large rusted steel (corten) sculptures and it was featured in a few American cities including Philadelphia. In 1978 the word was commissioned as a public sculpture in Hebrew, as a gift to the Israel Museum, to express love for Israel.
Some other interesting points: We launch this, with a design from 1978, at Chanukah, the Feast of Dedication or Feast of Lights (even beacons?) which is related to the Maccabeans who, as Daniel was told, would "be strong and do exploits" (Daniel 11:32)
Modi'in was Founded in 1978. It is "Located in the Foothills of the Judean Hills midway between Jerusalem and Tel Aviv. Modi'in is the ancient hometown of the Hasmoneans, or Maccabeans, that ousted the Syrian-Greek overlords from the Land of Israel in the 2nd century BCE. The revolt began under the military leadership of Judah Maccabee and is the basis for the holiday of Hanukah." see
Israel my beloved God's banner to the nations The same year saw the city of Ariel established.